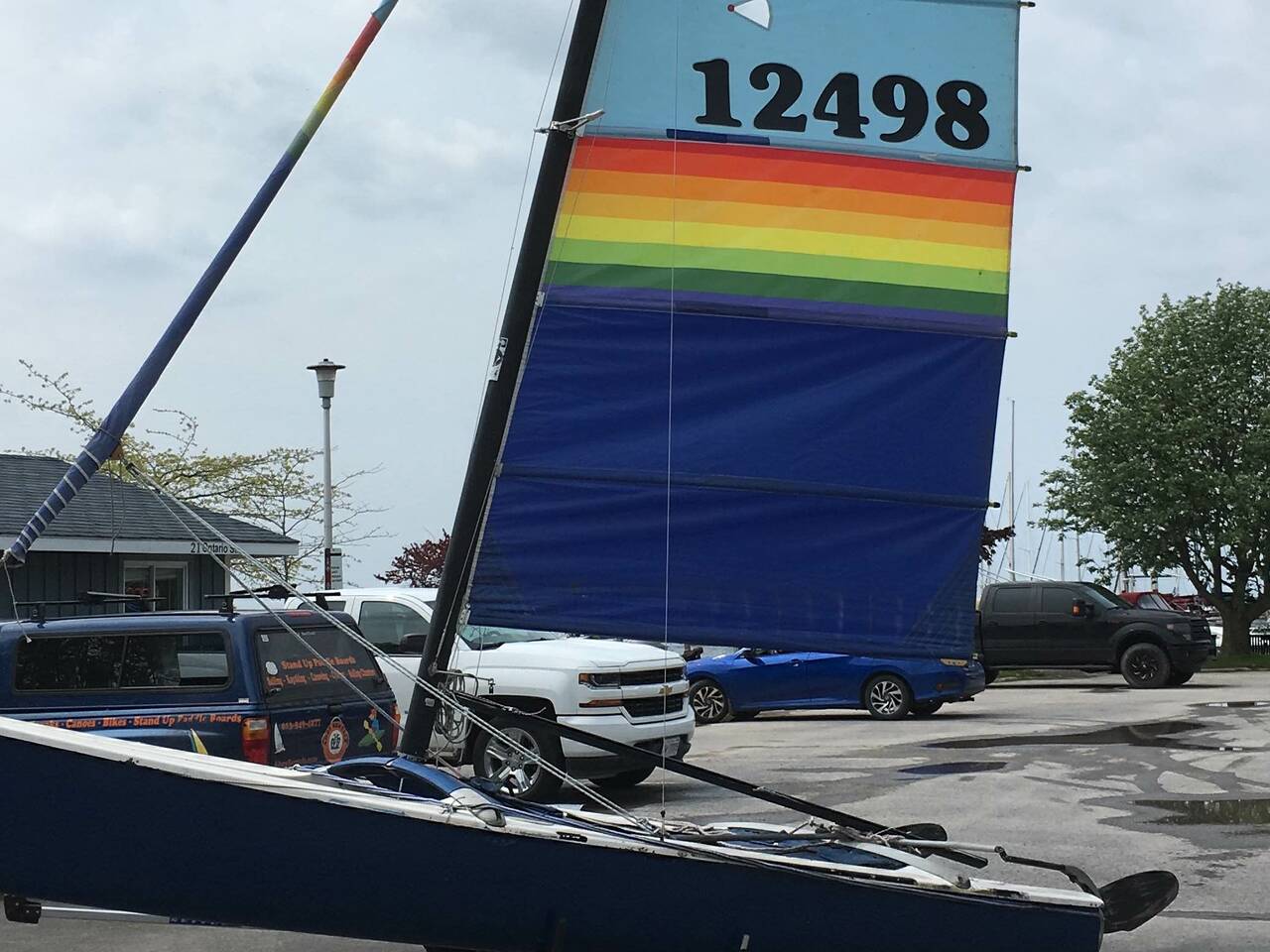 Searching Availability...
The Hobie 18 is only for rent to experienced sailors who have sailed a Hobie Cat (Hobie Wave not included) or other high performance boats. 2 such experienced sailors required to rent this boat. Maximum wind speed for us to send this boat out is 15 knots, including gusts. This catamaran handles well over a wide range of conditions. It will point a bit higher than its asymmetrical cousin, although it is a bit wetter in heavy winds because the trampoline is closer to the water.
No trapeze set up for this boat.
Specifications:
Length: 18' or 5.5m
Beam: 8' or 2.4 m
Draft: 0.6' or 0.2 m to 2.5' or 0.8 m
Sail Area: 240 sq. ft. or 22. 3 sq. m
Proven Experienced Sailors Required: 2
Capacity: 4 Adults (varies with wind conditions)
Number in fleet: 1
Rental Rates
$40 First Hour, $6.00 each additional 15 mins.
Full Day: $125 (over 5 hours).
Prices includes HST, lock and helmet.
Last rental out is 1 Hour before close.
Hourly Reservations: Payment required for the first hour. Check wind forecast prior to any booking, we do not allow our sailboats out in wind strength above 15 knots. Please arrive 15 minutes before your booking, we will have your boat rigged and ready to go.
Full Day Reservations: Full payment required to book.
Refund and Cancellation Policy
Reservations required, full payment via our online reservations system. No refunds for cancellations within 48 hours, a 25% fee will be applied to cancellations greater than 48 hours. On site rentals will be cancelled if weather conditions are unsafe for paddling. In this case, full refunds will be given.
Returns Policy and Weather Conditions
Return Policy: Please proceed to building after your return to check out and
pay for your rental by the end time of your booking. If you return early you will only pay for the time used. Late returns will incur an additional $25 fee.
Paddling Weather Conditions: Please visit Weather Conditions Guidance and Policy for more information.
Location
21 Ontario St., Kingston, ON K7L 2Y2